Best Safari Zones in Pench National Park
The thrilling experience of the Pench Jungle is incomplete without taking the wildlife safari in Pench National Park. This is the only way wildlife enthusiasts can sight birds and animals in their natural environment. The national park has seven safari zones located at a distance of about 2 to 80 km. Tourists should do proper research by sighting the index of the gates before deciding to go for a safari ride to ensure they have a wonderful time.
The Core zone of Pench has three gates, namely, Turia gate, Karmajheri gate, and Jamtara gate.
Turia Gate : This gate is the most popular gate amongst tourists visiting Pench. It is closest to National Highway 7 and lies on the border of Madhya Pradesh and Maharashtra. Majority of hotels and resorts are located on the southern part of the reserve. This part of the forest consists of mixed vegetation, scrublands, and streams. The Baginnalla waterhole is located here.Leopard sightings are extremely common here. The other road of the park splits upwards, leading to the Junewani waterhole.Behind this is arocky terrain leading to the highest point of Pench called KalaPahad.Pyorthadi, the area knowns for its dynamic views of rocks, is surrounded by the gigantic Ghost Trees and sparkling Salai Trees. The central area of the park is dominated by the undergrowth of lantana. Chital (Spotted Deers), jackals, and beautiful birds can be sighted here easily.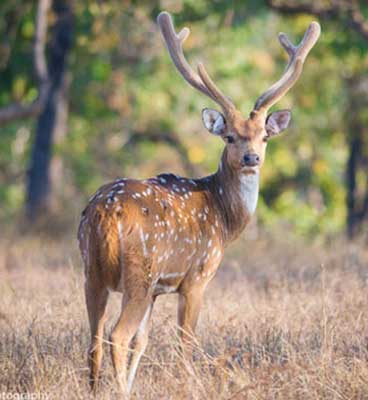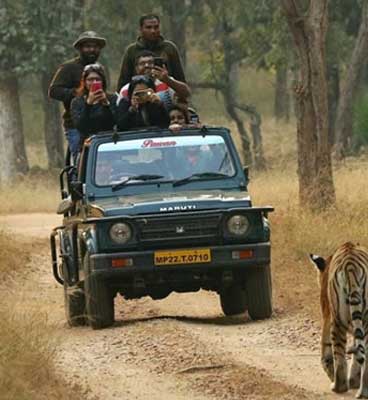 Karmajheri Gate : Due to limited available accommodation here, this gate is relatively less busy. However, forest rest houses are located at this gate. This area of forest boasts of several Teak trees, as prior to it becoming a tiger reserve, the forest was used for timber production. Bodhanallacovered with Bamboo plantations is a word in tribal language of the region. Bodha, means male gaur and nalla referring to a stream in Gond language.One can spot Gaurs, Sambars, and occasionally even a barking deer. The road leading towards Sita Ghat goes parallel to the Pench river and is home to many birds. As the river dries up in the summer season,tigers can be sighted resting in a pool of water. Wild Dogs can also be spotted in this area of the park.
Jamtara Gate : This is the third gate of the park, and only a limited area of the park can be visited in this zone. You can cross over to other zones from Chendia ghat and reach the breakfast point of Alikattawhen the river is dry. The road toward Tikari is generally not visited by tourists. One can findShindoori, Banyan Trees, andCamel foot climbers here. Sloth bears are spotted in this area.
Pench Mowgli Sanctuary :  This zone is not open to tourists The buffer zone of Pench has three zones, namely,Rukhad buffer, Khawasa buffer, Teliya Buffer zone.
Rukhad buffer zone : This is a hilly buffer zone and is convenient to be visited if tourists stay near Karmajhiri gate. There are several bamboo, Jamun, andArjun trees.Beautiful streams and lots of butterflies can be seen. Rukhad is also a strategic Tiger corridor for Pench and Kanha forest reserves. Guests can cycle around or opt for a jeep safari in this buffer. This is better suited when one is staying near the forest area.
Khawasa buffer zone : This zone is located close to the Turia Gate.It is also known as the Wolf Sanctuary, and one can experience a night safari in this area. The area is mostly an open wooded forest, a natural habitat for animals like wolves, foxes, porcupines, and owls.
Teliya Buffer : Located 4 km away from Turiya Gate and 11 km away from Khawasa Buffer Gate, this zone is known for wolf, panther, leopards,barking deer, chowsingha, and blue-bull antelope spotting. The Maharashtra side of the Pench Forest has 2 Core Zones. Khursapar Zone Sillari Gate. The zones remain open throughout the year.
Khursapar Gate : Located at a distance of 12 km from Khawasa and 30 km from Turia, it is the most famous zone for day safari. The chances of spotting the wild predators in their natural abode are maximum.
Sillari gate Gate : This gate is at a distance of 30km away from Turia gate. This zone boasts of open grassy dense wooded forests and has thick bamboo vegetation with freshwater streams. Unfortunately, there are very few and basic options for lodging and boarding at this gate.
Runi-Jhooni Trail : This is a walking trail of around 3 km and can be entered from the Karmajheri Gate. Tourists who want to explore the jungle on foot can take this trail. Pugmarks of animals are easily visible, andone can sometimes hear warning calls of animals and spot them. A marvelous view of different species of birds can also be enjoyed during the walk.