Things to do in Pench 
Apart from the thrilling experience of the safari in the jungle, depending upon ones interest there are various activities that can be enjoyed around Pench Tiger Reserve.
The Potter's Village at Pachdhar
Pachdhar, a small village in Seoni district is situated 80 kms from Nagpur. It is famous for its community of potters. While driving through NH-7 tourists can view some enchanting views of deciduous teak trees, paddy fields and a group of potter community creating some fabulous works on their wheels. More than 100 families who are natives of the Pachdhar village form the traditional potter community. Members of this community are known as Kumhaars. Beautiful items like earthen vessels (matkis), piggy banks (gullak), lamps (diyas), tea glasses (kulhar) can be purchased. Infact, tourists can experience the making of these handmade items in front of them. The potters useonly organic material and natural ingredients, are handmade and use nomachines at all. The basic raw material is the black soil which is abundantly available in this area.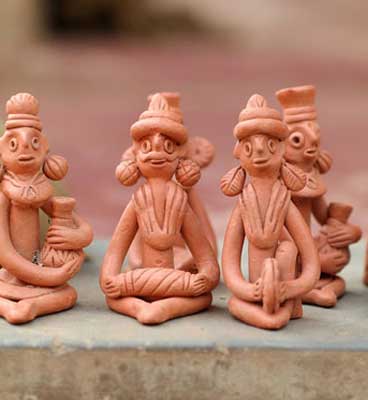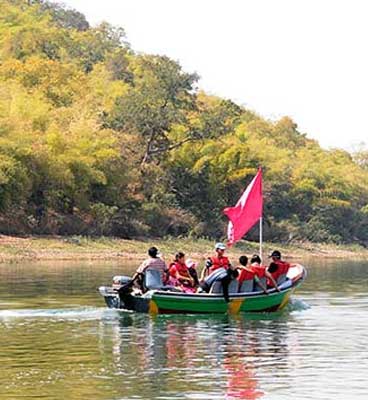 Boating Near the Pench Dam
TheKamthikhairy Dam or the Pench Dam is an earth-fill dam on the Pench River. It is situated inside the Pench National Park and most of the wildlife is found around this water-body as the animals come near the dam to drink water. In the summer season, the Pench River dries out leaving behind small pools of water that are locally known as 'doh' or 'khassa'.
The Pench Reservoir which is at the center of this park is the only major water source here. Tourists have the opportunity to view several species of waterbirds while enjoying a ride in their pedal-boats, row-boats and motor-boats. This place is a must visit place for every bird lover who must not forget to carry their binoculars for a memorable experience.
Pench in summer season
From March, the vegetation starts to lose its natural color. However, the chance of spotting tigers increases multifold from March to May.This is because in the scorching heat,the grass dries up, and there islesswater availability. The likelihood of seeing these animals around remaining water sources therefore increases. However, the temperature at this time may reach 42°C, and safaris can be hot and uncomfortable.Therefore, while visiting Pench during the summer season, wear light-colored clothes in cotton or linen. Carrying a water bottle to prevent dehydration is also important. Though the weather starts improving in June, the heat can still be grueling, and not many tourists visit at this time. Moreover, the monsoon season is about to set in by this time, and safari becomes difficult.