Jeep Safari in Pench National Park ?
The Pench National Park, located partly in Madhya Pradesh and partly in Maharashtra,is one of the most exciting wildlife destinations. A jeep safari to explore the incredible expanse of the park is a dream comes true for wildlife lovers to spot tigers, jackals, sloth bears, langurs, deers, and several species of beautiful birds.
To view the various animals in their natural habitats,a jeep safari can be booked online through our website. A maximum number of 6 adults and 2 children less than 1 year of accommodated in one jeep. Keeping in mind the many tourists visiting the park,booking the jeep safari in advance is advisable.
Certain important Dos and Don'ts to be kept in mind while opting for a jeep safariare :
The cost of a single Jeep safari is Rs 8500. For foreign tourists in the vehicle, an extra charge of Rs 1000 is charged for every vehicle only for Khusapur and Sillari gates.
There is no entry fee for kids below 5 years of age.
In summers, the jeep safari timings are 6:30-9:30 am and 4:00-6:00pm, while those in winters are 7:30 -10:30 am and 3:00-5:00 pm.
There is a night safarifrom 6:00-9:00 pm only in the buffer zone. The booking for the same is made on the spot. made on the spot.
Online tickets for the jeep safari can be booked 120 days in advance.
Complete name, age, and gender detailsshould be given withvalid ID proof (Voter ID, PAN card, passport, Adhaar Card). Same ID proof must be carried during the safari.
Suppose any incorrect information is provided at the time of booking. In that case, the booking will be invalid and treated as not booked.
Entry permits, once issued, are non-refundable and are not transferable.
No tape recorder, transistor, or radio can be carried into the forest. Therefore, all visitors are expected to maintain complete silence.
Feeding any animal or bird during the jeep safari is strictly prohibited.
Forest roads are full of curves and are topsy turvy. Bars have been provided in the jeeps for safety, and standing in the jeep during the safari ride is not allowed.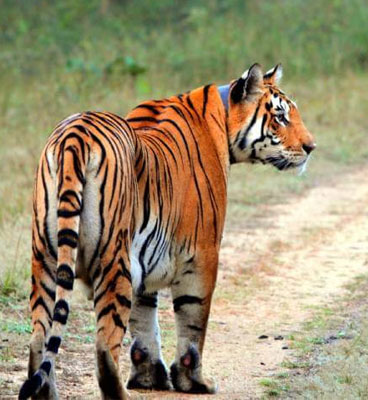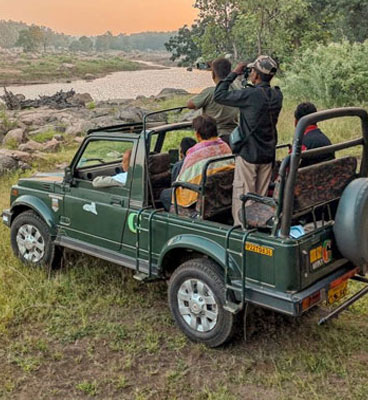 Smoking and consumption of alcohol during the jeep safari is strictly prohibited.
The booking procedures are managed by forest officials as per guidelines of the Forest Department under the Government of India.
Visitors are not allowed to get down from the vehicle in a jeep safari. They are expected to abide by the rules of the wildlife protection act.
Entry into the restricted zone is strictly prohibited
Safari vehicles have to strictly follow entry & exit timing, so always cooperate with your safari guide and driver.
No Pets are allowed in a safari.
Use of any polythene bags is banned in the entire forest area.
Authorities will fully abide by the Standard operating procedures laid down from time to time by the Government of India for Covid 19. AarogyaSetu app must be installed on mobiles of all visiting tourists.